I see your anguish and I hear your frustration
If you're ready to finally get to the root of your health concerns and co-create a lasting plan for long-term change, I'm ready to start this journey with you.
I guide independent, health-minded professionals who are dealing with unexplained pain and burnout to stop the vicious cycle of quick fixes and overwhelm so they can be in control and feel like themselves again or for the very first time.
When working together, we focus on three main areas:
Addressing the physical body to get to the core of the pain and exhaustion so you can finally feel like your best self.
Collecting clues about what is really happening, using functional lab testing results to create a personalized plan for you to finally feel at home in your body.
Preventing future pain cycles and anxiety spirals by learning how to read your mind and body and give them exactly what they need so you can feel in control and foster long-term resiliency.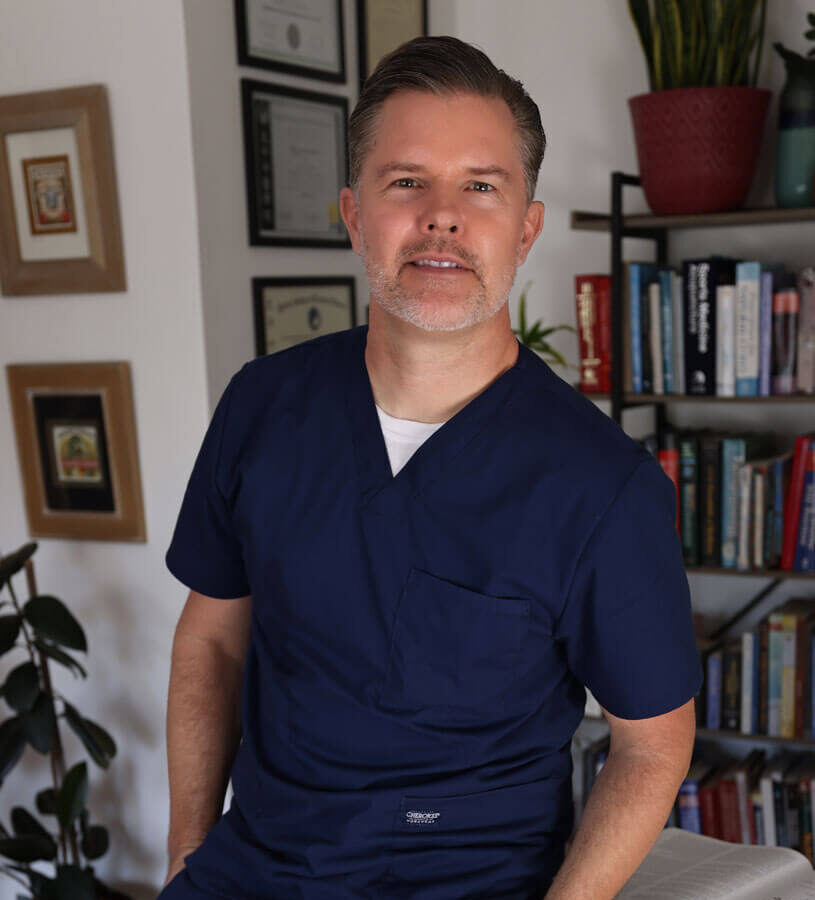 One-size-fits-all plans simply do not work
I've worked with over 12,000 patients over the past 17 years. From this depth of experience I know, first hand, that healing can take place only when you, the individual patient, is placed front and center.
I believe in your individuality, and I know that a health-rebuilding plan should be as unique as you are.
To build health while honoring your own story and wellness goals, I offer convenient personalized health-rebuilding plans that address pain, burnout and anxiety for busy professional women who are dealing with unexplained physical pain, fatigue and overwhelm.
Together, we co-create an individualized plan to stop the vicious cycle of quick fixes and overwhelm, enabling you to regain control of your health and life so you can finally feel like yourself again – or for the very first time.
Guiding patients through this process is both my passion and a personal mission. This enthusiasm comes from personal experience, and from working with thousands of patients over the past decade who were stuck in that same cycle of trial-and-error. I've seen their frustration at getting neither good answers nor the care they deserved from other providers.
Other providers offer only bits and pieces of your healthcare puzzle, leaving you frustrated, overwhelmed and both physically and financially exhausted.
Nothing changes unless we change
To facilitate these lasting changes, I have crafted easy-to-implement customized health-rebuilding programs. These programs provide options that best reflect your needs, budget and agenda, not my own. They are frameworks that will be filled in based on your goals and health concerns that we will uncover together.
How long does it take, and how much does this cost? That differs based on the amount of support, direction and accountability you need. I want this work to be available to clients who are truly ready to invest in themselves, so payment plans are available.
Jumpstart
Have you been looking for a way to simply start working towards your goals of pain reduction, anxiety management and resiliency building? Or maybe you're already working on it but feel like there are some missing pieces? This might be the best program for you.
I will assess your current health through a series of in-depth questionnaires and individualized lab testing (if needed) to gain clarity on your biggest health concerns. We'll establish links to what might be causing them and where your biggest opportunities exist to restore balance and claim your calm.
We'll work as a team for seven sessions over approximately three months as I listen to your needs and guide you on the best ways to implement your new health strategies. Based on where you are in your journey, I will provide customized recommendations for diet, rest, pain management and stress reduction. We'll also talk about supplementation and toxin elimination to support your body so you can get unstuck and return to feeling like yourself again.
Intensive
Have you been stuck in an endless cycle of pain, stress and overwhelm? Odds are, you've spoken with your doctor, tried multiple supplements and anti-inflammatory food recommendations and been to chiropractors, acupuncturists, trainers and other providers. Some or all of these might provide temporary relief, but the same old issues always come creeping back.
Or perhaps you are already feeling pretty good and want to take things to the next level so you can live your life to the fullest? The Intensive Program might be the one for you.
We will use functional lab testing to take a deep and integrative look at hormones, gut health, immunity, digestion, detoxification, energy production and much more. This life-changing perspective can uncover hidden imbalances that have been preventing you from feeling your best.
We will work together to co-create a personalized health-rebuilding program that is both practical and realistic for your own unique life. The goal is to provide sustainable results and tools for future strength and lasting resiliency.
This program includes 12 sessions over roughly six months. The Intensive Program gets you all the support and accountability you need to efficiently implement lifestyle changes and recommendations.
Total Transformation
At your wits end? I've been there, too, and I can personally attest that there is a life on the other side.
The cycle of trial-and-error, disappointment, frustration, hope and despair is no way to live. This hamster wheel of one-off fixes is exhausting and demoralizing. It's finally time to get real answers and real results.
Or are you that go-getter who wants to optimize every aspect of your life? Are you already feeling good but want to feel your absolute best?
If either of those descriptions resonates, then Total Transformation is a fit for you.
In this program, we work as a team doing full-blown investigations into your health and personal history. Total Transformation includes detailed intake forms, a wide array of functional lab testing that investigate hormones, gut health, metabolic functions and food reactivity – each of which must be analyzed to uncover root causes of pain, anxiety and stress management.
Along with my lifestyle change recommendations, you'll also get customized food lists and eating-plan guidance based on lab testing results to support your body where it needs it most.
In this transformational coaching experience, we work together for 18 sessions over 9 to 12 months to give you nutritional, lifestyle and mindset support so that you can become the happiest, healthiest, most authentic and resilient version of you!