I Believe in You
You already have the ability to take back control from chronic stress and anxiety. My role is to help you remove the obstacles, clear the path and shine a light on the answers that are just waiting to be discovered.
Cutting through the clutter, prioritizing what's important, clarifying your own reasons for change and creating an action plan – that's what coaching is all about.
I already see you as whole and resourceful, with untapped ability to stop the cycle of trial and error.
It's not your fault that you haven't been able to manage stress and anxiety on your own. Our innate capacities for change and resiliency get overwhelmed by the distractions of the busy, hectic world that we live in.
At some point, we all get stuck and need a little help. That's not failure – it's part of being human.
Helping you get unstuck is my superpower.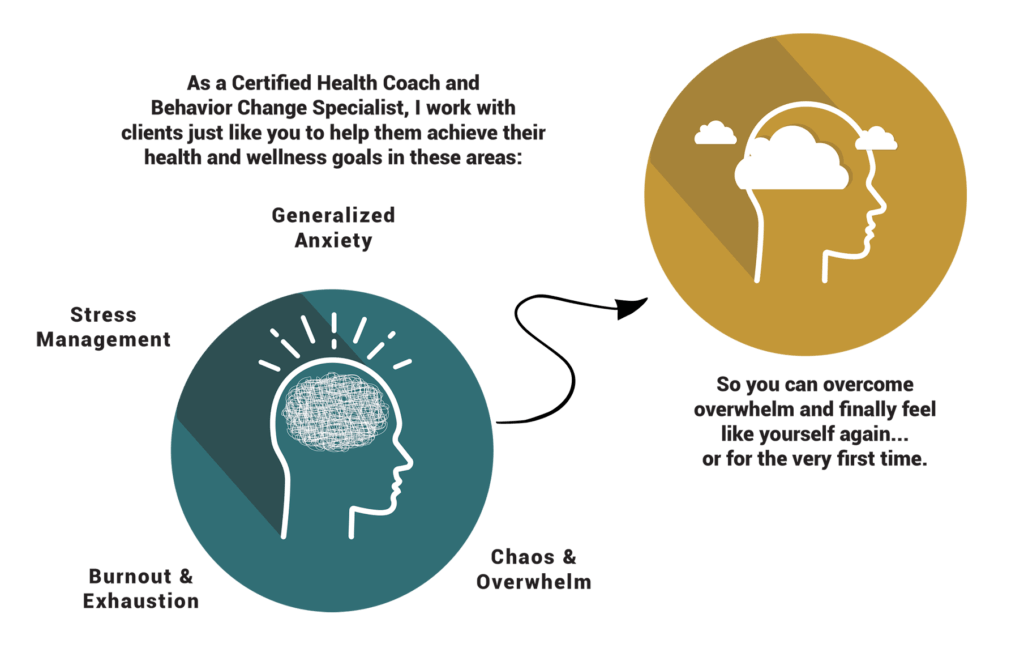 The Coach Approach
As a Transformational Coach, I'm here to help you uncover your own strengths and values, establish realistic goals and assist you in creating a life of resiliency and peace of mind. We will create a trusted partnership built on open-mindedness, empathy, trust and a committed effort to remove the blocks that are currently in your way.
Anxiety, overwhelm and stress management are either positively or negatively affected by our daily habits and priorities. Like a plant that doesn't get watered, these foundational parts of our lives can dry up and then negatively affect our emotional bandwidth, innate capacity for stress and overall resiliency.
When we finally choose to cultivate the parts of our lives that have a direct impact on stress and anxiety, true and lasting transformation can begin to take root.
Do you see any parts of your own life that could use some extra support and attention?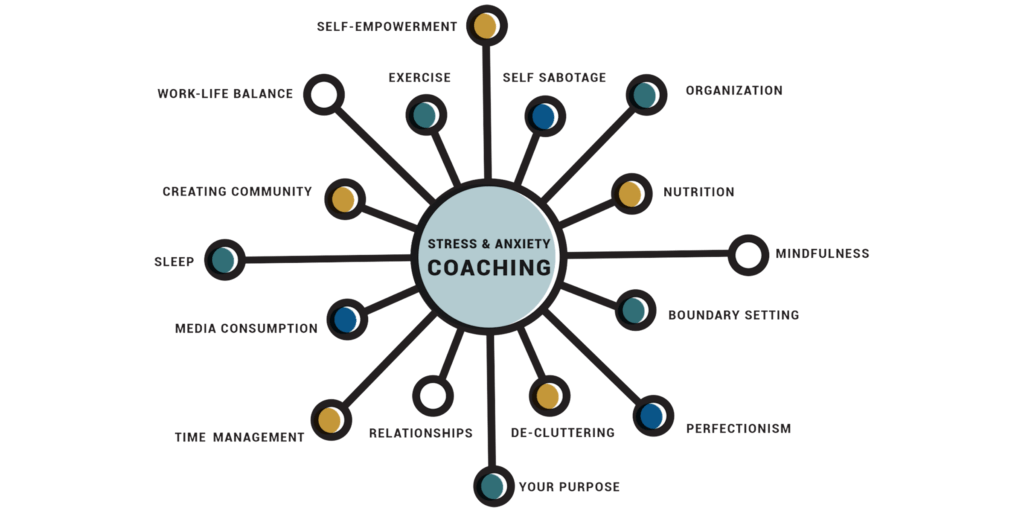 You are the expert on your own life and you get to decide what matters most. Together, we will bridge the gap between awareness and action by uncovering what you truly value in life. We use that as a road map to get you where you want to be.
The Process
Coaching sessions are a combination of connection and accountability. I lead the way as we explore your values and create an action plan, but you are always in charge. Recognizing that change takes time, we discuss the vision of where you desire to be and co-create a road map to get there in a way that works best for you.
How To Claim Your Calm:
Book a complimentary session in which we gain clarity on your goals and determine if coaching is a fit for you.
Purchase a coaching package.
We work closely together over six sessions in a time-frame that works for you.
We fine-tune and reassess your goals and direction at a final complimentary session.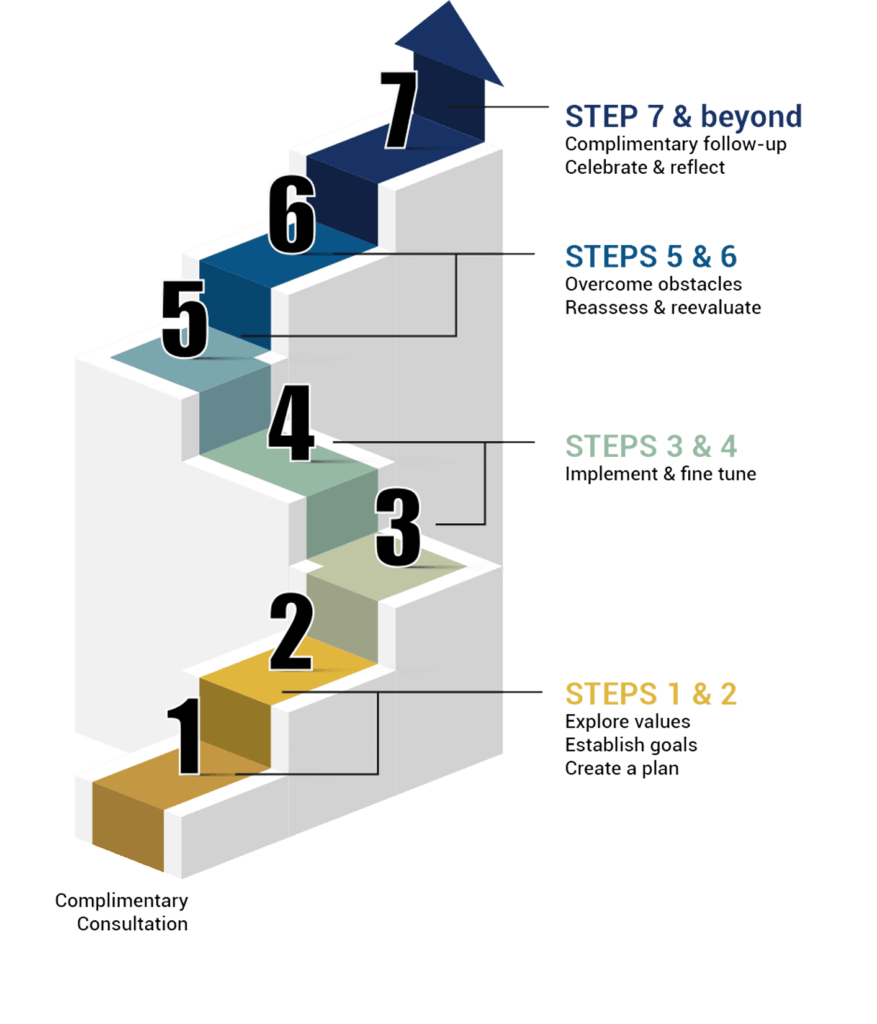 | COACHING IS | COACHING IS NOT |
| --- | --- |
| A desire to thrive | A replacement for therapy |
| Future-focused | Advice-driven |
| An equal partnership | Based upon past experiences |
| Client-centered | Coping-based |
| Goal-driven and strength-based | One size fits all |
| A confidential and safe space | Practitioner focused |
| A supportive relationship | Telling you what to do |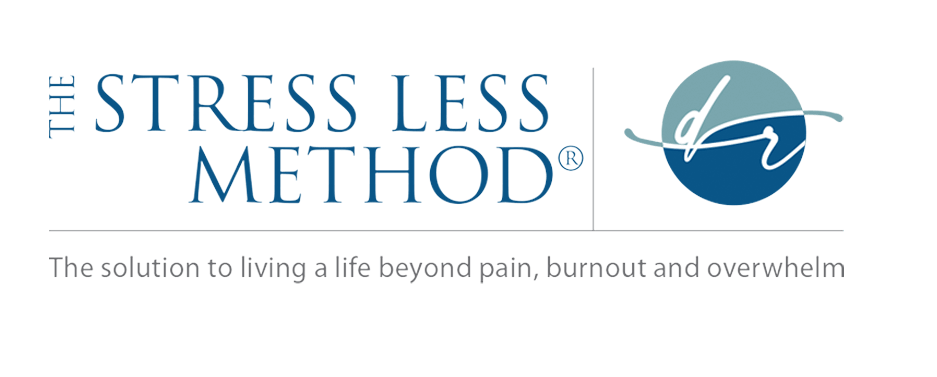 Are you interested in lasting transformation and supportive behavior change, a long-term and ongoing relationship and a full suite of diagnostic labs and healing opportunities?
If so, The Stress Less Method® might be the best fit for you.
I'm only a 15-minute complimentary consultation away to help you gain clarity on which of my many services is the best starting point for your own unique journey. Reach out anytime!